The organized crime in France is a $23 billion business (yearly reported). That's like the worth of an entire tribe like Honduras (9+ million people). Enough said!
---
Gang des postiches (operating between 1981 and 1986):
---
They were well known for attacking banks and robbing them. They would wear normal clothing with fake mustaches, beards and wigs and they would split in two groups: the first responsible for taking hostages, while the second went about acquiring cash and emptying safe deposit boxes. They made some 30 million Euros in this manner.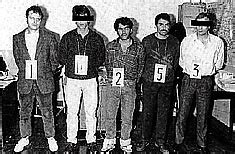 ---